What was the physical verification about? I never heard of that.
I think physical verification most probably for employment experience reasons.
CO inform you also about the physical verification??
Wishing to see some updates
The richest?..don't be fooled by all the LIES being woven by that thuggish nation…their vice administer has already openly admitted & announced in front of all the local mass media that in Communist China…there are still till nowadays, 60 million people suffering from poverty by earning less than 217 AUD per MONTH lol…China infiltrates the whole world through money corruption and repulsive propagandas…Wall street elite companies, UN, WHO, WTO, World Bank…no one is an exception…so the richest or rather instead>>the EVILEST neo-Nazi?..sorry pal…I'll stop this topic from now on but pls guys let it sink in for a good while and remember that no matter how powerful n rich one nation gets…once the people there have abandoned faith and lost their moral compass…all leads to CHAOS and TYRANNISM
Yes… it's for employment verification. And i am self employed so they visited at my office and asking too me questions regards my work and role and responsibilities. i have suddenly got a verification. CO not inform about it. Luckily i have clear my verification. Any idea somebody what happened next?
that is the reason they did physical verification because you are self employed. Did you claim points for self employment??
I called DHA today, but got the same age old reply - they don't provide any update on processing nor they know why there is no Co contact or update on my application. Any other way to reach them and get some update.

Lodged - 25th July 2019 No CO contact Offshore - 261313
I have same occupation, timeline and status. Got same standard response from their side. Even the ministers are giving same standard generic response.
Don't know why they are not starting. they have highly expensive visa system but their services are not not well. I am also fed up and have done with multiple mails to different platforms.
Since border is opening even I am trying to contact them by different medium call, mail, feedback, suggestion etc like all of you. In immi tracker I seen new offshore application getting grants. I just want to remind them that old application also exist and then can at least ask for pcc or medical and grant us the visa too.
Previously, I was thinking that I have worked with multiple employer that's why visa grant is taking time. But after going through different forums, I realized that it is almost same for people who lodged in year 2019 or before.
As per my visa processing agent, offshore candidate will receive CO contact or grants from Dec 1, 2021. I am just hoping and praying that things will be good from Dec 1 for offshore people.
Anyone recently requested FOI and got some statistics?(I requested yesterday and I will share once I receive it)
I did not claim any point for any employment but still waiting. I also send emails to them but nothing is happening.
I received the foi result which I asked them couple of months ago. It is showing data till sept 2021. Just 827 offshore 189 are pending and they are taking ages to finalise them. By December it might be just 600.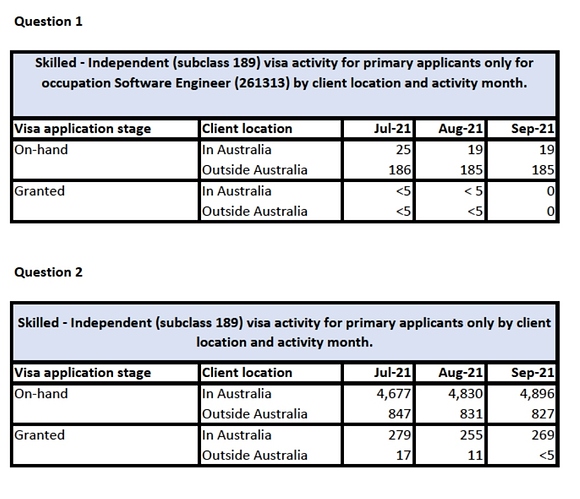 What's the email I'd of dha to enquire about offshore grant ?
From the feedback form on their website.
Thanks @GurminderSingh, for 261313, it is just 185 (too small). Overall 827 is also too small compared to 4896.
How come 0 grants in Sep 21 for both onshore and offshore?
October they invited 300+ people I guess for 189, so overall numbers may be more or less same like FOI data.
The thing that I hate the most is 185 185 and 185. No movement
Yes i claim my self employment point. It's 15 points man… i don't wanna a loose it.
Can we do medical again with old hap id or we have to wait for CO contact for new hap id??