Nowadays, I am not seeing any communication in this forum. Are there any onshore or offshore grants or CO contact?
yes they are granting 189 visa to onshore applicants who applied in april/may 2021. I saw so many people posting in facebook groups.
Great that grant is going for 189. Which fb groups are you following? My agent was saying that there will be more grants for offshore people from next financial year starting from July 2021. I am just hoping that some good news will come for offshore people too from July onwards.
Hello Veena… It would be great if you can share the whatspp link of the group. Thank you.
these two are active facebook groups and lets hope for some good news in july.
Thanks @GurminderSingh for the FB group list.
I found it and thought of sharing with everyone.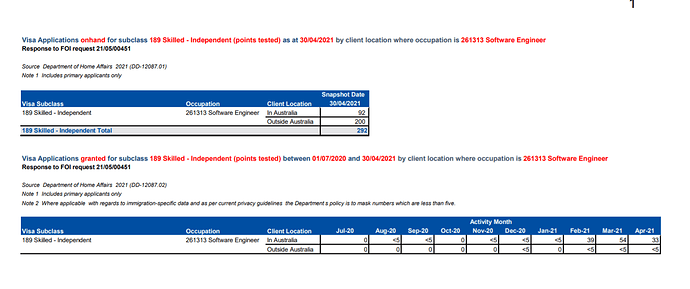 2 days back 189 offshore grant reported for Iran people.
Hi Folks Some info is needed, from those who know my case.
I have three applications with DHA 485(21 May 2019),189(11 June 2019), and 482 (05 May 2021). I submitted the medical for 482 with additional blood test to cover for the expired medical of the other applications (12 May 2021).
Surprisingly, I have recently been asked to provide updated medical exam and polio vaccination certificate for 485 application. I replied the case officer and provided the HAP ID of the recent medical exam taken in connection with 482 application… no further movement on that application till then
My question is, due to a sudden change of situation I need to withdraw 482 application and seek for a refund… Would my medical submitted for 482 application be still valid and pinned with my 189 and 485 applications, even if I withdraw 482?
Thank you for the information but I can't join the group as it is showing full participants.
Hi all,
I'm glad to say that finally got my PR granted.
Many thanks to all for the support.
This has been a very long journey and wish you all to get their deserved visa soon.
This is my time line:
Date of application: April 2019
CO contacted twice:
1st February 2020 to provide relationship documents
2nd May 2021 to re do medicals and new PC
Occupation: Accountant General
85 points
My case is not in immitracker.
Congratulations Cachito… Are you offshore? If yes, please mention your country name
Congratulationa and when did you got your grant?
congratulations

Thank you.
I got it today.
Since I posted here many people has joined the group. Anyways I will update here incase someone get the grants in that group.
Congrats @Cachito. Great news

Congratulations buddy… you were one of those who spreads positivity and always provide useful information… happy for you… enjoy the moment…