Congrats… what is the IED??
Congratulations Benz:) May this bring you tHe best…I applied under the same code on Dec 1, 2018. Hoping that mine comes too:)
Did check with them they only say one thing - it's processing.

I thought it might be delayed because of the Christmas holiday or bushfires. Don't know

It looks like the case officers are working 3-4 days per week. some days the grants are pouring and on the other days nil

Thank you

just want to share guys, got the golden email just awhile ago, applied jan 7, 2019, got some issues with kids medical ( dev pedia assesment) and wifes medical ( false TB detect ). wife medical cleared april, but expired oct (815), got CO Contact again last dec 16, for wire medicals. submitted dec 23, visa approved today… guys dont lose hope and keep away from the negativity. i was also looking at immitracker and this forum like crazy till today.
Congratulations:) I am glad it turned out well for you even with all the setbacks

wishing you the best:)
Congrats and kudos for your determination …
Hi All,
Finally after waiting for315 days(10'10" months), I received CO today. However, to my surprise, they requested for employment verification related documents. I already attached the employment verification letters(that I think are the most important in this regard), Tax statements(only for a few random years for each employer).
I am trying to understand what documents are falling short that I need to provide to them. Here is the text that they have sent me. I guess that I need to provide PF Statements, Bank Statements, Tax documents(for employer 1 and 2).
Any suggestions will be appreciated. Thanks.
Page #2 - Request Checklist

This is request checklist is for Mr Nigel Date of birth : ************ Client ID : ************ Application ID : ************

See the attached "Request Detail", which provides a detailed explanation relating to the checklist item(s) listed below. Evidence of employment

Position: Systems Engineer Employer name: ************************** Country: ********** Date from: ** Oct 2004 Date to: ** Mar 2009 Tax documents/bank statements/employee provident fund statements

Position: Senior Software Engineer Employer name: *************************** Country: ********** Date from: ** Mar 2009 Date to: ** Jun 2011 Tax documents/bank statements/employee provident fund statements

Position: Solution Architect Employer name: *************************** Country: ********** Date from: ** Jun 2011 bank statements/employee provident fund statements

Page #6 - Request Detail

Evidence of employment Provide evidence of your claimed period of employment prior to the date of invitation.

Specifically, provide evidence of your employment at: Enter: Employers for which evidence is required

For the period(s): Enter: Dates of employment evidence is required Provide: Delete evidence which isn't required

● employment references ● contracts ● pay slips ● tax returns ● group certificates/payment summaries ● superannuation information. Employment references should meet the following requirements:

● A reference should be on the official letterhead of the company providing the reference.

● The letterhead should indicate clearly the full address of the company and any phone numbers, fax numbers, emails and website addresses.

● The name and position of the person authorised to sign the reference should be typed or stamped below that person's signature - a reference with only an illegible signature will not be accepted.

● The direct contact number of the person writing the reference should be included in the letter.

● The letter should indicate the exact period of employment, position(s) held including whether permanent or temporary, full or part time, the main five duties undertaken, and the salary earned - position(s) should not be described by generic title(s) (for example, research officer, public servant), but according to the nature of the duties undertaken (for example, research chemist, accounts clerk).
when did you lodge your applciation
I lodged it on 7th March 2019 and updated it for the last time on 9th March 2019.
Regards, Nigel
Hi Nigel ,
Apart from some personal information that you have masked with *** , are there any other edits by you in the text , or is it just as it is . I am asking because the way the query is phrased is really confusing.
Cheers.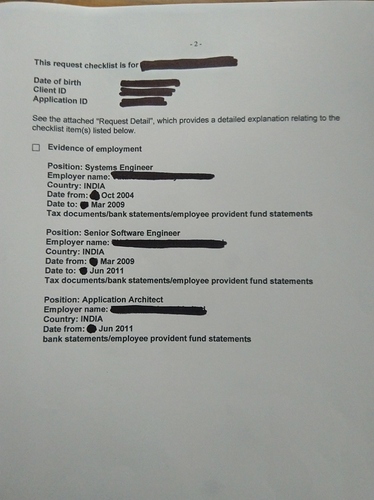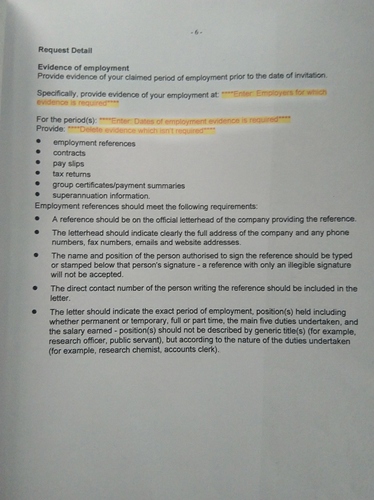 I have masked only personal info i.e. Name, IDs, Empoyer name, dd in the dates. Uploaded the 2 relevant pages i.e. Page 2 and 6 of the document CO provided.
Note: I have my wife and kids in the application. But no information has been requested for them by the CO. Its only me for whom more information is needed.
I noticed also that they work on thursdays

and the rest of the week is just for fun Very strange Maybe they have shortage of staff , so they split the work on certain days , today we don't see any grants for 190
did u provide employment reference letter on company letter and also letter signed by direct manger or HR
Ok.Well, to me it seems you must provide the bulleted details for each of the employer, and that's all
What about the cases where the applicants are not able to provide letters on company letterhead? Will a notarised statutory declaration work in such cases?