Happy to join here too



There is some problem with the link bro. Please share the news.
My question, Are we part of migrant? I think that some of us had been waiting for final grant more than 2 years, so we are still an oversea applicants, no one care for us
See, here is not a question of migrant or overseas applicant. We can hope for the best to return to the normal mode of processing as before pandemic. Look it is fact that after night there will be a sun rise. I mean to say today we need to stay calm and positive. We all know the truth but frustration will not give us any thing apart from instability. So we have to give a positive hope each other.
Any one having inputs on whether offshore lodgements 2018/2019/2020 getting co contacts for renewal of pcc and medicals. From any source like whatsapp…as I don't see any activity on the immi tracker.
Hello Friends
I have created a WhatsApp group for 189/190 Visa Grant Aspirants. Feel free to add yourself and your friends for sharing knowledge, updating about recent grants and having healthy discussion

Here is the QR Code and Web Link for adding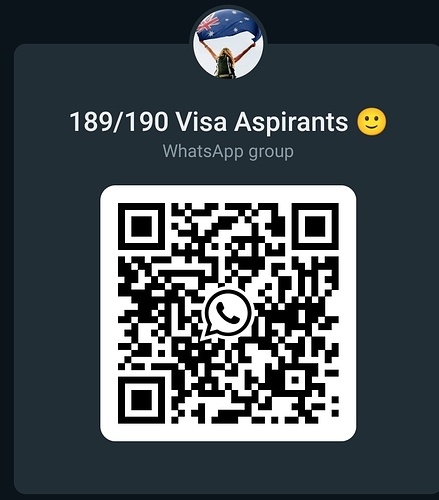 Thanks @GurminderSingh for creating a grp. Joined it

.
However, I am thinking when will the immitracker 189 grp be active.
You are welcome @Veena_K

the admin of this forum is not responding to the emails regarding opening the 189 group. May be he is busy god knows.
The question on my mind now is, have our visas been processing during this pandemic or will they only start processing when migrants are allowed to enter again, meaning we still have a long wait ahead of us. I applied March 2020.
Bro these days passport office dispatches PCC by speed post?? however last year I went to the office in person
In February this year I applied for PCC. They sent me via normal post. It took a month for whole process.
Do you have any data on processing of applications in financial year 2021-2022??
Can u explain what the PCC is…is it police character certificate?
I have recently lodged a foi week for obtaining this information. Will get results in 2-3 weeks. I will share it here as soon I get it.
Thanks, i will wait for this information. I thought they did not start grant for offshore as well as onshore till yet. I think they are waiting for december. Because they do not want to provide the benefits that are automatically revoked from Jan 2022.
Yes i am having same thought.