Hello is there any Jan aor group ???
Not able to join group seems full at the moment …
Try daily, people come and go.
Processing time trends and patterns report:

If you have any feedback on this report please PM me.
If you find this status update useful please click [LIKE] - thank you in advance.
Current Processing: *The dates are based on the data reported to myimmitracker in the past 24 hours.

Statuses by months 2020: *Not much happening for 2020 applicants at this stage, PPRs are flowing for 2019 applicants, see below.

Source:https://myimmitracker.com/en/ca/trackers/consolidated-e-apr-tracker-express-entry-permanent-residency-application/analytics/statuses-by-months-of-submission
Statuses by months 2019: *December, November and October have reported hundreds of PPRs in the past few weeks.

Source:https://myimmitracker.com/en/ca/trackers/consolidated-e-apr-tracker-express-entry-permanent-residency-application/analytics/statuses-by-months-of-submission
PPRs by period report: *Very active 2.5 months of 2020. A lot of PPRs. Raining pretty much every day. We can see the decrease in the processing time, see below.

Average processing time CEC: *We can see that CEC remain the fastest stream.

Average processing for FSW-O&I: *It sory of stablized at around 185-195 days on average.

Average processing time PNP: *PNP once again became the fastet stream, a number of December applicants got PPT already.

Applicants by stream 2020 *PNP slowly reducing and will, most likely come to usual 10-15%, however, with new provincial quota allocation we should expect PNPs to pick their share towards August/September.

Average by a province: *Processing time for PNP has stabilized now and is quite short. NBPNP 135 DAYS ON AVERAGE!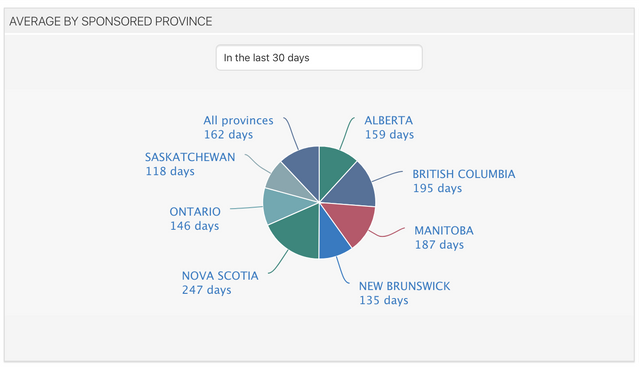 PPRs issued by visa office in 2019: *Ottawa, Sydney add up to 85% of all PPRs generally, NDVO however, in last 2 months issued A LOT OF PPRs in the past 2 months.

Average by nationality: *As you can see, Syria, Palestine, Cuba and Zambiaare taking a LONG TIME.


Fastest Stream And IT IS… PNP in the past 30 days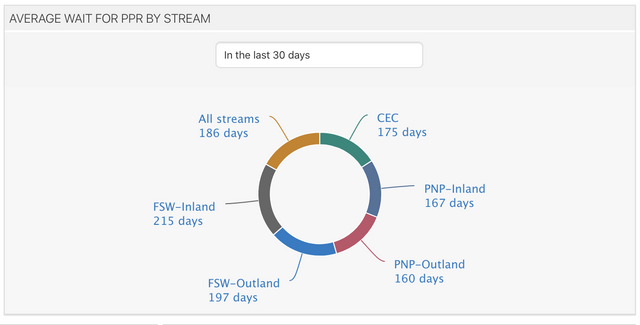 Processing by visa office *Vienna, Warsaw and London are SUPER-quick.

Thanks very much everyone! and enjoy your week!
Ping me with questions and good luck with you application!
Hi Andy,
This is an Email I received from CIC to my webform query. Please help me understand how far along I am in the background check in terms of IP1 and IP2
Your application is currently being processed by the Case Processing Centre in Ottawa, Ontario.
Hi - Can you help me with the inputs at what stage my file is
Aor 23rd Jan 2020 Medical passed - 5th Feb BIL - 14th Feb RPRF request - 16th april No update toll now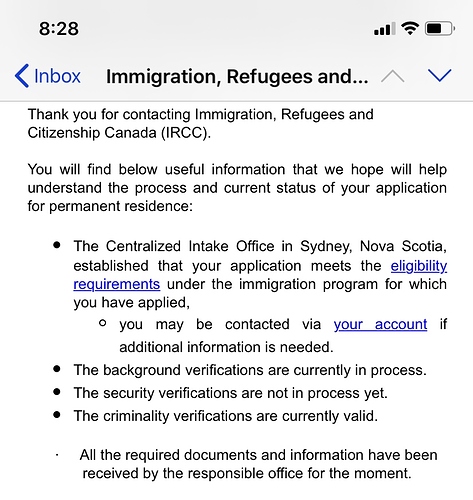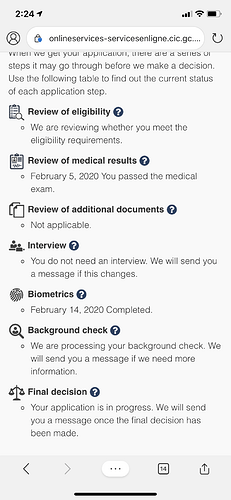 Hello, please I need any January Whatsapp group or Telegram group to join. Thanks.
IS there any update on your application ?
Hi guys. Can you tell me if there is something wrong with my application? AOR Jan 14th, 2020, Medical passed Jan 29th, Biometric completed Feb 3rd. My background says "your application is in progress. We will send you a message when we start your background check." and didn't change since? So at what stage my application is? and is it normal that the background check didn't start yet?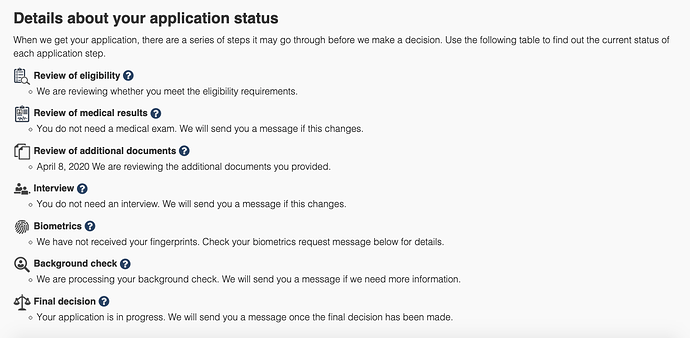 In the application details for bio-metrics it says We Have Not Received your fingerprints. however I gave my finger prints on 6Feb,2020. also additional document is being reviewed as of april 8,2020. which Is RCMP report. so what you think at what stage is my application. Its been 154 days I believe so far. Any Suggestion
how did you get this information about your application. can you tell me so that I can also get this in order to know at what stage is my application. Thanks
when did your background check started?
I have No Idea about it. Its like this from long time
Any updates on how things are progressing?
Hi… I've submitted my application on 5th Jan 2020. Done with my Medicals on 23rd Jan, no update till now. Anyone received COPR? And how to join the whatsapp group, it seems full. Can anyone please help ?
applied on 30 Jan 2020 still no update. Good know-how long need to wait …
Hi Jayasree , any update in your application ? are you from Inland applicant ? as I from India and my partner she is in Canada. so very stressful when join together !!!
any updates? my AOR was on 14 Jan 2020 and my background check started on 30 oct 2020, and still no update? Are they forgetting the application submitted on Jan 2020?
Hi
I got my PPR today. My AOR date is 6 Jan 2020. it is FSW-Outland application.
My question is, how long will it take to get my passport back from VAC? I need to travel outside of the country on 10th December. I need to make sure I get my passport back before that. I am asked to send it to NY VAC
Thanks in advnce